Science festival 'Weekend with SAS' took place on the Primatial square in Bratislava from 21 to 22 June 2019. Scientists Dr Iveta Štecová and PhD student Tomáš Szabo, representing the SlovakGlobe as a joint workplace of the Institute of Forest Ecology of the Slovak Academy of Sciences, the Slovak Technical University in Bratislava and the Comenius University in Bratislava, attended the festival on 22nd of June. As they said, it has been an excellent opportunity to share research topic with people face-to-face and to get people excited about science. 'Heat islands – challenges and risks' were sufficiently attractive for people to enter the information stand. The young scientists introduced the topic in a short presentation. To put particular cards on different places within the printed map of the city of Bratislava and thus identify corresponding places in the city, such as heat islands, floods originating from heavy rain, increased noise levels, dust levels, smog, drought, strong wind, as well as localities designated for green measures, ie big trees of sufficient quality, rain gardens, green roofs, green walls, irrigation system or places with poor biodiversity, was an exciting task for visitors of the stand. In addition, people were asked what mode of transportation to work they use. Many families prefered walking, biking or public transportation. That was a nice surprise.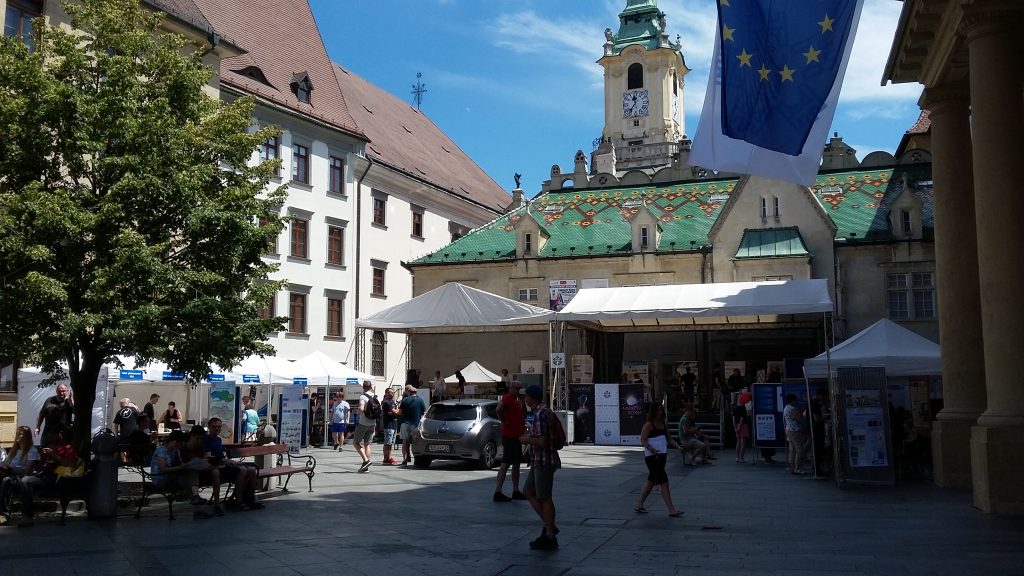 Presentation of heat islands, how they are formed, ecosystem services in cities topic, explanation how temperatures can be reduced by trees, topics such as taking care of urban microclimates for better quality of live, planning and taking care of greenery, and inspiring advices, eg what we can start doing to help our environment, was a part of 'Living Book' performance situated on the central podium. Iveta Štecová and Tomáš Szabo were extremely encouraged by large number of people who had visited their stand in particular after a successful performance within the Living Book.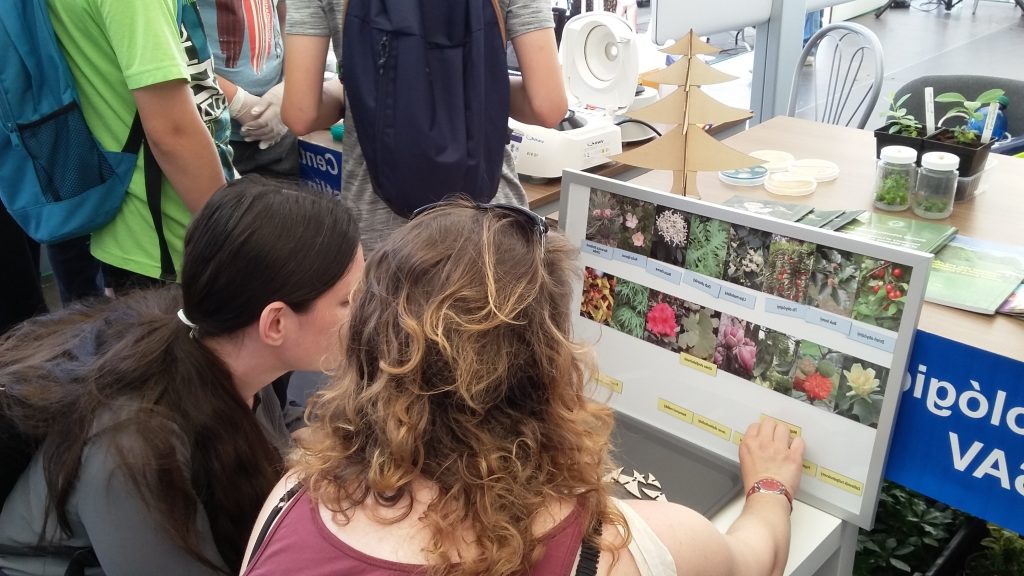 Also workers of the Arboretum Mlynany, which is a part of the Institute of Ecology of the Slovak Academy of Sciences in Zvolen, took part in the science celebrating event Weekend with SAS. An interesting programme comprised information on priorities of the scientific research set out by the Department of dendrobiology and collection of exotic woods. An introductory information was followed by interactive games. Interactive games separately for younger children, for primary school children and for adults helped make a lively atmosphere. Players were awarded for their successful efforts. Happy winners brought home also valuable exotic woods.