Jamnická Gabriela
Plant Ecophysiology RG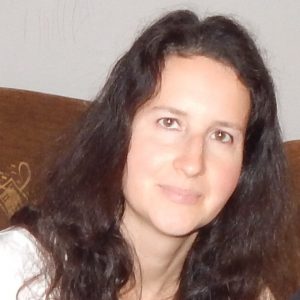 Ing. Gabriela Jamnická, PhD.
Slovak Academy of Sciences
Institute of Forest Ecology
Plant Ecophysiology & Stress Physiology Research Group
Ľudovíta Štúra 1774/2
960 01 Zvolen
Phone:  +421 45 5241 406
Email:  jamnicka@ife.sk
---
Specialization:
abiotic stress of forest ecosystems, plant stress:

ecotoxicology – heavy metals, geobiochemical cycles
ecophysiological research – drought stress
---
Education:
PhD. study in Dpt. of Ecotoxicology (2003-2008), Institute of Forest Ecology SAS, Zvolen, Slovakia (specialization: Ecology) Technical University in Zvolen, Faculty of Ecology and Environmental Sciences, Zvolen, Slovakia, Ing. degree in Protection of Nature and Landscape (1998-2003)
Academic employment: Institute of Forest Ecology, Slovak Academy of Sciences, Zvolen, Slovakia (2008 – present): Scientist Technical University, Faculty of Forestry, Zvolen, Slovakia: Science, research and foreign relations referee (2006-2007)
---
Co-worker in national projects:
VEGA 2/0068/10 – Herb-synusia and bio-geochemical cycles in beech forest ecosystems
VEGA 2/0006/11 – Eco-physiological response of selected provenances of woody plants to drought
APVV-0436- 10 – Effect of water deficit to physiological and growth processes of selected beech and spruce provenances
APVV-0135- 12 – Adaptive genetic potential of forest tree populations in the context of climate change" (on behalf project partner – Institute of Forest Ecology)
APVV-0480- 12 – Nutrient-energy cycles as disturbance indicators of terrestrial ecosystems" (on behalf project partner – Institute of Forest Ecology)
APVV-16- 0526 – Identification of environmental vulnerability and adaptive potential of spruce populations under changing climate
APVV 18-0390 – Growth and production of mountain ecosystems under conditions of climate aridization
---
Cooperation with international projects:
EU FP6 – ERA ENV SSA ( Integration of associated candidate countries and new EU member states in European research area by environmental approaches), 2006
EU FP7 – CEBIMOL (Centre of Excellence of Biological Methods of Forest Protection – ITMS 26220120008), 2009-2012
COST Action CA15226 CLIMO – CLImate Smart Forestry in MOuntain Regions, (2016-2020)
---
List of my publications:
2020

Physiological vitality of Norway spruce (Picea abies L.) stands along an altitudinal gradient in Tatra National Park Journal Article

Central European Forestry Journal, 66 (4), pp. 227-242, 2020, ISBN: 2454-034X.

Origin rather than mild drought stress influenced chlorophyll a fluorescence in contrasting silver fir (Abies alba Mill.) provenances Journal Article

Photosynthetica : international journal for photosynthesis research, 58 , pp. 549-559, 2020, ISSN: 0300-3604.

2019

Norway Spruce (Picea abies L.) Provenances Use Different Physiological Strategies to Cope with Water Deficit Journal Article

Forests, 10 (8), 2019, ISSN: 1999-4907.

2018

Adaptive variation in physiological traits of beech provenances in Central Europe Journal Article

iForest-Biogeosciences and Forestry, 11 (1), pp. 24-31, 2018.

2017

Nucleotide polymorphisms associated with climate, phenology and physiological traits in European beech (Fagus sylvatica L.) Journal Article

New Forests, 48 (3), pp. 463-477, 2017.

2015

Differentiation in phenological and physiological traits in European beech (Fagus sylvatica L.). Journal Article

European Journal of Forest Research, 134 (6), pp. 1075–1085, 2015.

Photosynthetic response of beech seedlings of different origin to water deficit Journal Article

Photosynthetica, 53 (2), pp. 187–194, 2015.

2014

Energy production of poplar clones and their energy use efficiency Journal Article

iForest, 7 , pp. 150-155, 2014.

Accumulation and bioconcentration factors of mineral macronutrients in representative species of macrofungi prevailing in beech-dominated forests affected by air pollution Journal Article

Czech Mycology: publication of the Czech Scientific Society for Mycology, 66 (2), pp. 193-207, 2014, ISSN: ISSN 0009-0476.

2013

The soil hydrogel improved photosynthetic performance of beech seedlings treated under drought Journal Article

Plant Soil and Environment, 59 (10), pp. 446-451, 2013.

Landscape of Danube inland-delta and its potential of poplar bioenergy production Journal Article

Biomass and Bioenergy, 55 , pp. 68–72, 2013.

Heavy metal accumulation and distribution in forest understory herb species of Carpathian beech ecosystems Journal Article

Chemical Speciation and Bioavailability, 25 (3), pp. 209-215, 2013.

2012

State of mineral nutrition and heavy metals distribution in aboveground biomass of poplar clones Journal Article

Polish Journal of Environmental Studies, 32 (2), pp. 447-453, 2012.