Černecká Ľudmila
EBE Research Group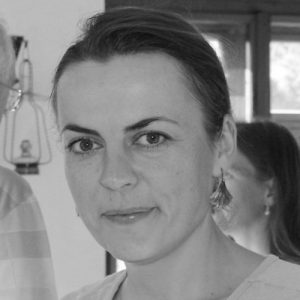 Mgr. Ľudmila Černecká, PhD.
Slovak Academy of Sciences
Institute of Forest Ecology
Evolutionary & Behavioural Ecology Research Group
Ľudovíta Štúra 1774/2
960 01 Zvolen
Phone: +421 917 056 332
Email: komata1@gmail.com
---
Research interests:
My research is focused on ecology of ground-dwelling spiders mostly in beech forests and also on bark-dwellig spiders and their responces to different forest environmental factors.
---
Education:
PhD. in Ecology and Biodiversity Conservation, Institute of Forest Ecology, SAS (under the supervision of RNDr. Ivan Mihál, CSc.; since 2011)
Mgr. (MSc.) in Environmental Education, Faculty of Natural Sciences, Matej Bel University in Banská Bystrica (2001-2005)
---
Projects:
VEGA 2/0012/17 – Importance of local habitats and microhabitats for spacial distribution of forest and arboricolous arthrophods
VEGA 2/0097/16 – Ecology and a reproductive strategies of relative and syntopic animal species
VEGA 2/0039/14 – The dynamics of health satus of mycoflora and selected dendrometrical and ecophysiological characteristics of beech ecosystems
VEGA 2/0035/13 – Responses of animals to changing forest structure
VEGA 2/0157/11 – Fragmentation and formation of new habitats after forest disturbances
---
Internships:
09/2013-12/2013 – as member in research group focused on biological control of spiders on pests,
Department of Botany a Zoology, Masaryk University, Brno, Czech republic
---
List of my publications:
2019

Pannonic salt marshes revealed six new spiders to Slovakia (Araneae: Gnaphosidae, Linyphiidae, Lycosidae, Theridiidae). Journal Article

Biológia, 74 (1), pp. 53-64, 2019.

2018

Spiders of Slovakia Book

VEDA, 2018, ISBN: 978-80-224-1618-4.

2017

Response of ground-dwelling harvestman assemblages (Arachnida: Opiliones) to European beech forest canopy cover Journal Article

European Journal of Entomology, (114), pp. 334-342, 2017.

Host utilization of koinobiont spider-ectoparasitoids (Ichneumonidae,Ephialtini, Polysphincta genus-group) associated with Cyclosa spp.(Araneae, Araneidae) across the Palaearctic Journal Article

Zoologischer Anzeiger, (267), pp. 8-14, 2017.

Structure of harvestmen (Arachnida, Opiliones) communities in different, antthropically disturbed beech ecosystems (Western Carpathians, Slovakia) Journal Article

Vestnik zoologii, 51 (3), pp. 259-270, 2017.

Abiotic factors and biotic interactions jointly drive spider assemblages in nest-boxes in mixed forests Journal Article

Journal of Arachnology, 45 (2), pp. 213-222, 2017, ISSN: 0161-8202.

2015

K poznaniu koscov (Arachnida,Opiliones) vybraných lokalít na strednom a východnom Slovensku Journal Article

Folia Faunistica Slovaca, 20 (1), pp. 31-35, 2015.

Biological control in winter: novel evidence for the importance of generalist predators. Journal Article

Journal of Applied Ecology, 52 (1), pp. 270-279, 2015, ISBN: 978-80-224-1618-4.