Barta Marek
PPM Research Group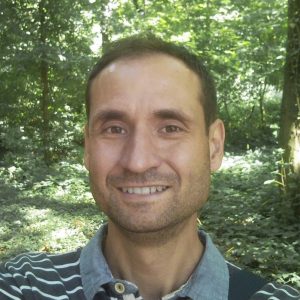 Barta Marek, Ing., PhD.
Slovak Academy of Sciences
Institute of Forest Ecology
Member of Plant Pathology & Mycology Research Group
Akademická 2
949 01 Nitra
Phone: +421 376 943 354
Email: marek.barta@savba.sk
Research Interests: The main focus of my research is insect pathology and microbial biocontrol of insect pests in forestry and agriculture. I am investigating biology, ecology, and species diversity of entomopathogenic fungi (Hypocreales, Entomophthorales) in populations of forest insect pests. A role of endophytic entomopathogenic fungi (Hypocreales) in the tritrophic interactions "plants – herbivory insects – entomopathogenic fungi" is also the aim of my research. Another part of my research interest is to study effects of climate change on invasions of alien herbivory insects.
---
Education:
PhD. in Plant protection, Faculty of Agrobiology and Food Resources of Slovak University of Agriculture in Nitra; Thesis: Fungi of the order Entomophthorales infecting aphids in Slovakia (2000-2003)
Ing. in Crop production, Faculty of Agronomy of Slovak University of Agriculture in Nitra (1995-2000)
---
Projects:
VEGA 2/0062/18 – Ash dieback: the causal agents and disease control strategy (2018-2021, member of research team)
APVV-16- 0031 Research of alternative methods of conifer seedlings protection against insect pests (7/2017-6/2020)
APVV-15- 0348 New methods in an integrated forest protection incorporating the use of entomopathogenic fungi (7/2016-6/2019)
VEGA 2/0025/15 – Endophytic microorganisms in trees and their potential role in stress tolerance enhancement (1/2015-12/2018), principal investigator
VEGA 2/0052/15 – Functionally important animals in the dynamics of forest ecosystems in new environmental conditions (1/2015-12/2018)
VEGA 2/0183/14 – Environmental risks of rhododendron cultivation in Mlyňany Arboretum SAS (1/2014-12/2017)
VEGA 2/0085/09 – Climate changes and prospects of introduced taxa of East-Asian dendroflora in Arboretum Mlynany SAS (01/2009-12/2012), principal investigator
APVV-0421- 07 New methods of evaluation and mapping of biotic harmful agents in urban greenery (09/2008-12/2010)
VEGA 2/7166/27 – Phytopatological and entomological evaluation of introduced woody plants in Arboretum Mlynany (01/2007-12/2009), principal investigator
Bilateral project: Slovakia (IFE)- Taiwan (NSC): Regulation of invasive tree-of- heaven (Ailanthus altissima) by its native pests Eucryptorrhynchus brandti and E. chinensis in the Middle Europe (01/2014-12/2015)
COST FP1401 – A global network of nurseries as early warning system against alien tree pests (Global Warning) (06/2015-12/2018)
COST FA1103 – Endophytes in biotechnology and agriculture (03/2012-12/2015)
---
List of my publications:
ResearchGate
ORCID ID: orcid.org/0000-0003- 2450-1769
SCOPUS Author ID: 7003746265
ResearcherID: B-6226- 2015
2017

Lecanicillium attenuatum isolates affecting the invasive cypress aphid (Cinara cupressi) in Chile Journal Article

BioControl, 62 (5), pp. 625–637, 2017, ISSN: 1386-6141.

2016

Stephanitis takeyai and S. rhododendri (Heteroptera: Tingidae) in Slovakia: first record and economic importance Journal Article

Plant Protection Research, 56 (2), pp. 193-198, 2016, ISBN: 1899-007X.

Natural prevalence of entomopathogenic fungi in hibernating pupae of Cameraria ohridella (Lepidoptera: Gracillariidae) and virulence of selected isolates Journal Article

Plant Protection Science, 52 (3), pp. 199-208, 2016, ISSN: 1805-9341.

The first record of tulip tree aphid, Illinoia liriodendri (Hemiptera: Aphididae), from Slovakia – Short Communication Journal Article

Plant Protection Science, 52 (2), pp. 142-146, 2016, ISSN: 1212-2580.

Biology and temperature requirements of the invasive seed bug Leptoglossus occidentalis (Heteroptera: Coreidae) in Europe. Journal Article

Journal of Pest Science, 89 (1), pp. 31-44, 2016, ISSN: 1612-4758.

The potential for Entomophaga maimaiga to regulate gypsy moth Lymantria dispar (L.) (Lepidoptera; Erebidae) in Europe Journal Article

Journal of Applied Entomology, 140 (8), pp. 565–579, 2016, ISSN: 1439-0418.

2014

Neozygites species associated with aphids in Chile: current status and new reports Journal Article

Mycotaxon, 129 (2), pp. 233-245, 2014, ISSN: 2154-8889.

First record of Entomophaga maimaiga (Entomophthorales: Entomophthoraceae) in Slovakia Journal Article

Biocontrol Science and Technology, 24 (6), pp. 710-714, 2014, ISSN: 1360-0478.

2013

Neozygites osornensis sp. nov., a fungal species causing mortality to the cypress aphid Cinara cupressi in Chile Journal Article

Mycologia, 105 (3), pp. 661 – 669, 2013, ISSN: 1557-2536.

2011

Effect of gamma radiation on the male sterility and other quality parameters of peach fruit fly, Bactrocera zonata (Saunders) (Diptera: Tephritidae) Journal Article

Horticultural science (Prague), 38 (2), pp. 54–62, 2011, ISSN: 1805-9333.

2010

Effects of combining Beauveria bassiana and Nosema pyrausta on the mortality of Ostrinia nubilalis Journal Article

Central European Journal of Biology, 5 (4), pp. 472–480, 2010, ISSN: 2391-5412.

Effect of botanical insecticide Nimbecidine® on food consumption and egg hatchability of the terrestrial snail Monacha obstructa Journal Article

Journal of Pest Science, 83 (1), pp. 27–32, 2010, ISSN: 1612-4758.