Mezei Pavel
DE Research Group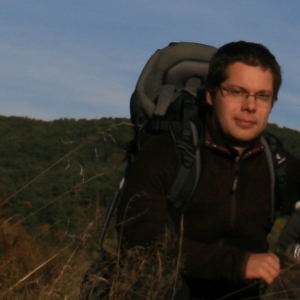 Mezei Pavel, Ing., PhD.
Slovak Academy of Sciences
Institute of Forest Ecology
Member of Disturbance Ecology Research Group
Ľudovíta Štúra 1774/2
960 01 Zvolen
Phone:  +421 45 5241 111, kl.302
Email: mezei@ife.sk
Research Interests: forestry, ecology, disturbances
---
Education:
PhD. in Ecology and Biodiversity Conservation, Institute of Forest Ecology, Zvolen, Slovak republic
Ing. (MSc.)in Forest Ecology, Faculty of Forestry, Technical University in Zvolen, Slovak republic
---
Academic employment:
Post-Doc, Institute of Forest Ecology, SAS (since 2015)
---
Project coordinator:
Dynamic modelling of risks of bark beetle outbreaks on landscape scale, mobility funding by Project Austria-Slovakia (1.1.2015 – 31.12.2015)
---
Awards:
Aktion Austria-Slovakia fellowship (6 month)
Central European University (CEU), Budapest, summer university fellowship
Schwarz fund of the Slovak Academy of Sciences for young scientists (48 months)
---
List of my publications:

2017

Influence of different forest protection strategies on spruce tree mortality during a bark beetle outbreak Journal Article

Annals of Forest Science, 74 , 2017, ISSN: 1297-966X.

Storms, temperature maxima and the Eurasian spruce bark beetle Ips typographus — an infernal trio in Norway spruce forests of the Central European High Tatra Mountains Journal Article

Agricultural and Forest Meteorology, 242 , pp. 85-95, 2017.

2015

Reproductive isolation of Ips nitidus and I. shangrila in mountain forests of Western China: responses to chiral and achiral candidate pheromone components Journal Article

Journal of Chemical Ecology, 41 (7), pp. 678-688, 2015.

2014

Host and site factors affecting tree mortality caused by the spruce bark beetle (Ips typographus) in mountainous conditions Journal Article

Forest Ecology and Management, 331 , pp. 196–207, 2014.

Factors influencing the wind-bark beetles' disturbance system in the course of an Ips typographus outbreak in the Tatra Mountains Journal Article

Forest Ecology and Management, 312 , pp. 67–77, 2014.

2012

The relationship between potential solar radiation and spruce bark beetle catches in pheromone traps Journal Article

Annals of Forest Research, 55 (2), pp. 243-252, 2012, ISSN: 18448135.

2011

Population dynamics of spruce bark beetle in a nature reserve in relation to stand edges conditions Journal Article

Folia Oecologica, 38 (1), pp. 73-79, 2011, ISSN: 13365266.