Krištín Anton
EBE Research Group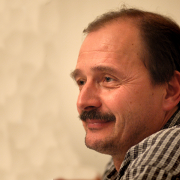 RNDr. Krištín Anton , DrSc.
Slovak Academy of Sciences
Institute of Forest Ecology
Member of Evolutionary & Behavioural Ecology Research Group
Ľudovíta Štúra 1774/2
960 01 Zvolen
Phone: +421 902641420
Email: kristin@ife.sk
Research Interests: behavioural ecology and reproductive strategies of birds, orthopterans; foraging and feeding ecology of birds, relationships between birds, insects and plants; life decisions and survival strategies in selected endangered species of birds, orthopterans and bats; IUCN Red List of European Orthoptera and principles for species selection in Anex II of Habitats Directive. Applied research is focused on suggestions of rules and principles in habitats management for particular study species and assemblages.
---
Education:
DSc. (DrSc.) in Ecology, 010520-010530, Slovak Academy of Sciences, Bratislava (2007)
PhD. in Ecology and Systematic Zoology, Comenius University, Bratislava (1982-1985)
RNDr. Department of Systemati