Kádasi Horáková Miriam
PPM Research Group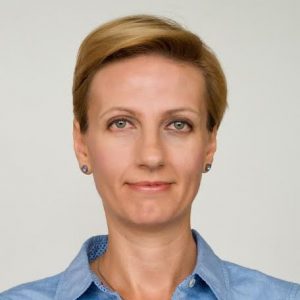 Ing. Miriam Kádasi Horáková, PhD.
Slovak Academy of Sciences
Institute of Forest Ecology
Plant Pathology & Mycology Research Group
Akademická 2
949 01 Nitra
Phone:   +421 37 6943 2419
Email: kadasi@ife.sk
---
Research Interests: molecular biology, population genetics, fungal diseases of woody plants, pathogen biology
---
Education:
Ph.D in Institute of Plant Genetics and Biotechnology, Slovak Academy of Sciences (2009)
Ing. (MSc.) in Applied Biology, Faculty of Agronomy of Slovak University of Agriculture in Nitra (2001)
---
Academic employment:
Researcher: Slovak Academy of Sciences, Institute of Forest Ecology, Branch for Woody Plants Biology (since 2011)
Assistant lecturer: Slovak University of Agriculture in Nitra, Faculty of Biotechnology and Food Sciences, Department of microbiology (2009-2011)
---
Projects:
VEGA 2/0062/18 – Ash dieback: the causal agents and disease control strategy (2018-2021, project leader)
VEGA 2/0077/18 – Identification, genetic variability a pathogenicity of economically important needle cast species on pines (2018-2021, member of research team)
SK-FR-2017-0025 – Spatial analyses in population genetic studies of tree pathogens (2018-2019, member of research team)
VEGA 2/0143/15 – Study of the effect of environmental variables on the incidence and spread of chestnut blight in European chestnut (Castanea sativa) in Slovakia and
possibilities to control on the disease (01/15-12/18)
VEGA 2/0071/14 – Species diversity and biological characteristics of parasitic fungi associated with damage and withering of woody plants (01/14-12/17)
VEGA 2/0069/14 – Biology, spread and identification of harmful agent Dothistroma septosporum (Mycosphaerella pini), D. pini and other harmful agents of assimilatory organs of pines (01/14-12/17)
COST FP1406 – PINESTRENGTH "Pine pitch canker" – strategies for management of Gibberella circinata in greenhouses and forests
(05/15-05/19)
COST FP1103 Fraxinus dieback in Europe: elaborating guidelines and strategies for sustainable management (04/12-04/16)
COST FP 1102 Determining invasiveness and risk of Dothistroma (Diarod) (07/11-12/15)
HUSK/1101/2.2.1/0230 Our common natural resource: the European chestnut, Cross-border Co-operation Programme Hungary- Slovakia 2007-2013, European Regional Development Fund (10/12-07/14)
---
Internships:
2013, Short term research stay at The Silva Tarouca Research Institute for Landscape and Ornamental Gardening, Prague-Pruhonice, Czech Republic
List of my publications:
2020

Entomopathogenic fungi of the genus Beauveria and their pathogenicity to Ips typographus (Coleoptera: Curculionidae) in the Vitosha National Park, Bulgaria Journal Article

Journal of Forest Science, 66 (10), pp. 420-435, 2020, ISSN: 1212-4834.

Entomopathogenic Fungi (Ascomycota: Hypocreales) as Natural Antagonists of the Pine Processionary Moth Thaumetopoea pityocampa (Denis & Schiffermüller, 1775) (Lepidoptera: Notodontidae) in Bulgaria Journal Article

Acta Zoologica Bulgarica, Supplementum 15 , pp. 89-96, 2020, ISSN: 0324-0770.

Host range of Hymenoscyphus fraxineus in Slovak arboreta Journal Article

Forests, 11 (5), pp. 1-18, Article Number: 596, 2020, ISSN: 1999-4907.

2019

Hypocrealean fungi associated with Hylobius abietis in Slovakia, their virulence against weevil adults and effect on feeding damage in laboratory Journal Article

Forests, 10 (634), pp. 1-18, 2019, ISSN: 1999-4907.

2018

Needle blight caused by Dothistroma pini in Slovakia: distribution, host range and mating types Journal Article

Scandinavian Journal of Forest Research, 33 (7), pp. 650-656, 2018, ISSN: 1651-1891.

Microscopic fungi isolated from different Slovak grape varieties Journal Article

Potravinarstvo Slovak Journal of Food Sciences, 12 (1), pp. 438-443, 2018, ISSN: 1337-0960.

The hosts and geographic range of Dothistroma needle blight in Slovakia Journal Article

Forest Pathology, 48 (3), pp. e12421, 2018, ISSN: 1437-4781.

2017

Natural infection of Fraxinus angustifolia by Hymenoscyphus fraxineus in Slovakia Journal Article

Baltic Forestry, 23 (1), pp. 52-55, 2017, ISSN: 2029-9230.

Distribution and characterization of Dothistroma needle blight pathogens on Pinus mugo in Slovakia Journal Article

European Journal of Plant Pathology, 148 (2), pp. 283-294, 2017, ISSN: 0929-1873.

2015

Identification of Hymenoscyphus fraxineus, the causal agent of ash dieback in Slovakia Journal Article

Biologia, 70 (5), pp. 559–564, 2015.

Distribution and population structure of the chestnut blight fungus in Romania Journal Article

Plant Protection Science, 51 (3), pp. 141-149, 2015.

2014

Gaštan jedlý na Slovensku a v Európe : pestovanie, ochrana, variabilita a využitie [European chestnut in Slovakia : growing, protection, use and genetic variability] Book

Garamond, Nitra, 2014, ISBN: 978-80-89408-18-4.