Barna Milan
FED Research Group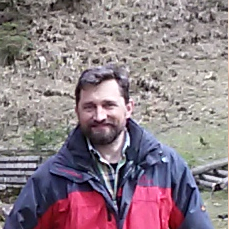 Barna Milan, Ing., PhD.
Slovak Academy of Sciences
Institute of Forest Ecology
Forest Ecosystems Dynamics Research Group
Ľudovíta Štúra 1774/2
960 01 Zvolen
Phone: +421 45 5241 111, kl.303
Email: barna@ife.sk
---
Specialization: production ecology of forest ecosystems with focusing on quantifications of trees biomass, fundamentals of tree growth and increment and its modelling, quantification of changes in forest ecosystems using production-ecological parameters (annual increments, twigs growth dynamics, leaf specific weight, and other) and natural regeneration of forest stands.
Current research interest – touches a problematic of understanding the revitalization processes in forest ecosystems and their prediction by signs and state of individual components of examined ecosystem. The aim is to examine in what measure, after removing or decreasing the production of emissions, is forest ecosystem capable of self-revitalization process. In a complex of ecological interaction in forest ecosystem we will focus on basic components – from the climate through the throughfall, decomposition, natural regeneration ability and health status of the mature trees.
---
Education:
PhD. in Ecology, Institute of Forest Ecology, SAS (1995–1999)
Ing. (MSc.) in Forest engineering, Faculty of Forestry, Technical University in Zvolen (1988-1993)
---
Academic employment:
Senior scientist, Institute of Forest Ecology, SAS, Zvolen (since 2005)
Scientist, Institute of Forest Ecology, SAS, Zvolen (1999–2005)
PhD student, Institute of Forest Ecology, SAS, Zvolen (1994–1999)
---
Projects:
Position: principal investigator:

Development of beech stands after shelterwood cutting – optimisation of the regeneration method. Project number 2/4158/24; Funded by Scientific Grant Agency SAS and Ministry of Education SR; Duration: 1/2004-12/2006
Influence of ecological conditions on natural regeneration in beech ecosystems. Project number 2/7185/27; Funded by Scientific Grant Agency SAS and Ministry of Education SR; Duration: 1/2007-12/2009
Endophytic microorganisms in trees and their potential role in stress tolerance enhancement. Project number 2/0055/10; Funded by Scientific Grant Agency SAS and
Ministry of Education SR; Duration: 1/2010-12/2013
Position: deputy principal investigator:

The dynamics of health status, mycoflora and selected dendrometrical and ecophysiological characteristics of beech ecosystems. Project number 2/0039/14; Funded
by Scientific Grant Agency SAS and Ministry of Education SR; Duration: 1/2014-12/2017
Position: member of the research group – 13 projects (APVV, VEGA, Operačný program Veda a Výskum) Cooperation with international projects:

Forest ecosystems response to global changes and environmental pollution in South-eastern and Central Europe: consequences for sustainable forest management. Project number B1; Grant scheme: MAD (International agreement between Slovak Academy of Sciences and Bulgarian Academy of Sciences; Duration: 4/2003-3/2006
Structure, health status and regeneration capability of dendrocoenoses destructed by wind invasion in Rila-Rodopi massif, Vitosha Mt and Low and High Tatras Mts. Project number B1; Grant scheme: MAD (International agreement between Slovak Academy of Sciences and Bulgarian Academy of Sciences; Duration: 1/2015-12/2017
---
Scientific – organizational activity:
member of the methodological and technical advice for the second cycle (2015-2016) of the National Forest Inventory and Monitoring of the Slovak Republic
member of the editorial board of the international scientific journal Folia oecologica (indexed eg. In AGRIS, CAB Abstracts, Scopus and other Elsevier Bibliographic Databases) since 2004
member of the editorial boar