Zach Peter
AEI Research Group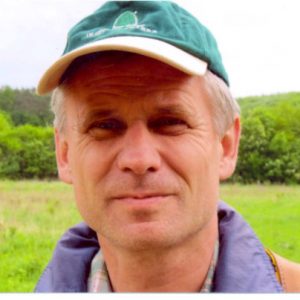 Ing. Peter Zach, CSc.
Slovak Academy of Sciences
Institute of Forest Ecology
Animal & Ecosystem Interactions Research Group
Ľudovíta Štúra 1774/2
960 01 Zvolen
Phone: +421 45 5241 111, kl. 128
Email: zach@ife.sk
---
Research areas: a forest entomologist and phythopathologist conducting research in the field of forest entomology, forest protection and biodiversity conservation with emphasis placed on bark beetles (Scolytinae) and other xylophilous beetles, ladybirds (Coccinellidae) and invasive insect species. A keen birdwatcher.
---
Education:
PhD. in Forest Pathology and Plant Protection (1993)
---
Projects:
VEGA 2/0052/15: Functionally important animals in forest dynamics in new environmental conditions
VEGA 2/0012/17: Importance of local habitats and microhabitats for spacial distribution of forest and arboricolous arthropods
APVV-15- 0348: New methods in an integrated forest protection incorporating the use of entomopathogenic fungi
APVV-14- 0567: Information and warning system for invasive organisms in forests and urban areas
---
List of my publications:
2019

Distribution, Habitat Preference, and Management of the Invasive Ambrosia Beetle Xylosandrus germanus (Coleoptera: Curculionidae, Scolytinae) in European Forests with an Emphasis on the West Carpathians Journal Article

Forests, 10 (1), 2019.

Effects of a host tree on movement and distribution of winter geometrid moths (Lepidoptera): thickness of trunks and branches Journal Article

Folia Oecologica, 46 (2), pp. 83–90, 2019, ISSN: 1336-5266.

2018

Two blue-stain fungi colonizing Scots pine (Pinus sylvestris) trees infested by bark beetles in Slovakia, Central Europe Journal Article

Biologia, 73 (11), pp. 1053-1066, 2018, ISSN: 0006-3088.

Phytophagous larvae occurring in Central and Southeastern European oak forests as a potential host of Entomophaga maimaiga (Entomophthorales: Entomophthoraceae) – A field study Journal Article

Journal of Invertebrate Pathology, 155 , pp. 52-54, 2018, ISSN: 0022-2011.

Can late flushing trees avoid attack by moth larvae in temperate forests? Journal Article

Plant Protection Science, 54 , pp. 272-283, 2018, ISSN: 12122580.

2017

Species assemblages of ladybirds including the harlequin ladybird Harmonia axyridis: a comparison at large spatial scale in urban habitats Journal Article

BioControl, 62 (3), pp. 409-421, 2017.

2016

Mites Trichouropoda and Uroobovella spp. (Uropodoidea) phoretic on bark beetles (Scolytinae): a comparison from a declining mountain spruce forest in Central Europe Journal Article

International Journal of Acarology, 42 (4), pp. 212-217, 2016, ISSN: 1945-3892.

Distribution of Lepidopteran Larvae on Norway Spruce: Effects of Slope and Crown Aspect Journal Article

Environmental Entomology, 45 (2), pp. 436-445, 2016.

The harlequin ladybird, Harmonia axyridis: global perspectives on invasion history and ecology Journal Article

Biological Invasions, 18 , pp. 997-1044, 2016, ISSN: 1387-3547.

2015

Harvestmen (Arachnida: Opiliones) of open biotopes in the Poloniny National Park (north-eastern Slovakia) Journal Article

Fragmenta Faunistica, 58 (1), pp. 51-58, 2015.

Are the moth larvae able to withstand tree fall caused by wind storm? Journal Article

Annals of Forest Research, 58 (1), pp. 185-190, 2015.

2014

The invasion history, distribution and colour pattern forms of the harlequin ladybird beetle Harmonia axyridis (Pall.) (Coleoptera, Coccinellidae) in Slovakia, Central Europe Journal Article

Zookeys, 412 , pp. 89–112, 2014.

2013

Spatial occurrence and abundance of five phloeophagous beetle species (Coleoptera) in Scots pine trees (Pinus sylvestris) growing on sandy soils Journal Article

Folia Oecologica, 40 (1), pp. 84-90, 2013, ISSN: 1336-5266.

2012

Effect of vegetation and management on occurrence of larvae and adults of generalist Maniola jurtina L. (Lepidoptera) in meadow habitat Journal Article

Polish Journal of Ecology , 60 (3), pp. 601-609, 2012.

2011

Successful overwintering of Lepidoptera larvae and eggs on spruce trees uprooted by the wind Journal Article

Folia Oecologica, 38 (1), pp. 52-56, 2011, ISSN: 1336-5266.
---