Pšidová Eva
Plant Ecophysiology RG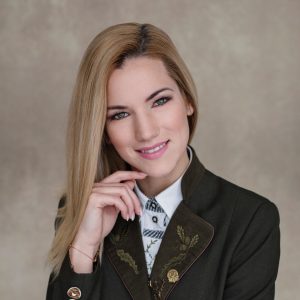 Ing. Eva Pšidová, PhD.
Slovak Academy of Sciences
Institute of Forest Ecology
Plant Ecophysiology & Stress Physiology Research Group
Ľudovíta Štúra 1774/2
960 01 Zvolen
Phone: +421 915 88 44 13
Email: psidova@ife.sk, evkapsidova@yahoo.com
Research Interests: ecophysiology, plant environmental stress physiology, plant stress, photosynthesis, chlorophyll a fluorescence
---
Education:
PhD. in Ecology and Biodiversity Conservation, Institute of Forest Ecology, SAS (under the supervision of RNDr. Ľubica Ditmarová, PhD; 2009 – 2012). PhD. Thesis: Identification of the stress condition caused by drought in selected beech provenances
Ing. (MSc.) in Forestry, Faculty of Forestry, Technical University in Zvolen. MS. Thesis: Dynamics of forest communities in the region of Pliešovce communal forest (2004-2009)
---
Academic employment:
Post-Doc, Institute of Forest Ecology, Slovak Academy of Sciences, Zvolen, Slovakia (2012 – 2020)
Maternity leave (From July 2019 to September 2022)
Researcher, Institute of Forest Ecology, Slovak Academy of Sciences, Zvolen, Slovakia (2020 – present)
---
Projects:
APVV – 0436-10 Effect of water deficit on physiological and growth processes of selected provenance beech and spruce
VEGA – 2/0006/11 Eco-physiological response of selected provenances of woody plants to drought
VEGA – 1/0218/12 Genetic and physiological foundations of adaptive variability of forest trees as a basis for the regulation of forest reproductive material
VEGA – 2/0034/14 Stress state identification in forest woody plants by a comprehensive eco-physiological approach
VEGA – 2/0049/18 Indication of influence of critical values of environmental factors at level of physiological and growth traits in spruce populations from different geographic origin sites
VEGA – 1/0535/20 How are adaptive traits of physiological resistance of trees affected by climate, intra- and interspecific variability?
APVV – 0480-12 Látkovo-energetické cykly ako indikátory disturbancií terrestrickcých ekosytémov
APVV – 0135-12 Adaptive genetic potential of forest tree populations in the context of climate change
APVV – 0306-16 Identification of environmental vulnerability and adaptive potential of Norway spruce (Picea abies Karst. L.) populatins under changing climate
APVV – 0390-18 Growth and production of mountain ecosystems under conditions of climate aridization
APVV – 0270-21 Adaptive variability of forest genetic resources trees in conditions of climate change
---
Research fellowships:
COST-STSM-FP1202; from 17th August to 30th August 2015
Host institution: Prof, Dr. Saša Orlović, University of Novi Sad Institute of Lowland Forestry and Environment
Title: Leaf physiological differences between central and southern beech provenances growing at a dry site
COST-STSM-FP1106; from 15th July to 15th September 2014
Host institution: Prof. Dr. Andreas Bolte, Thünen-Institute of Forest Ecosystems, Eberswalde; Germany
Title: Lethal drought tolerance of central and marginal beech provenances
---
Seminars:
Summer School Ecophysiological Field Techniques in Climate change and Pollution Research, 28 September – 4 October 2013, Tenerife, Spain
---
Honours and awards:
Competition of PhD. students and young researchers for the best work in the framework of the Dendrological Days 2012; the 1st place
International Meeting Photosynthesis Research for sustainability – 2016 in honor of Nathan Nelson and T. Nejat Veziroglu. Pushchino, Russia, June 19 – 25, 2016; Young talents award
---
List of my publications:
2020

Magnolia grandiflora L. shows better responses to drought than Magnolia × soulangeana in urban environment Journal Article

iFOREST - Biogeosciences and Forestry, 13 (6), pp. 575-583, 2020, ISSN: 1971-7458.

Photosynthetic performance of silver fir (Abies alba) of different origins under suboptimal growing conditions Journal Article

Functional Plant Biology, 47 (11), pp. 1007-1018, 2020, ISSN: 1445-4408.

Origin rather than mild drought stress influenced chlorophyll a fluorescence in contrasting silver fir (Abies alba Mill.) provenances Journal Article

Photosynthetica : international journal for photosynthesis research, 58 , pp. 549-559, 2020, ISSN: 0300-3604.

2019

Norway Spruce (Picea abies L.) Provenances Use Different Physiological Strategies to Cope with Water Deficit Journal Article

Forests, 10 (8), 2019, ISSN: 1999-4907.

Nucleotide polymorphisms associated with climate and physiological traits in silver fir (Abies alba Mill.) provenances Journal Article

Flora : morphology, distribution, functional ecology of plants, 250 , pp. 37-43, 2019, ISSN: 0367-2530.

2018

Altitude of origin influences the responses of PSII photochemistry to heat waves in European beech (Fagus sylvatica L.) Journal Article

Environmental and Experimental Botany, 152 , pp. 97-106, 2018, ISSN: 00988472.

Adaptive variation in physiological traits of beech provenances in Central Europe Journal Article

iForest-Biogeosciences and Forestry, 11 (1), pp. 24-31, 2018.

2016

Desiccation and Mortality Dynamics in Seedlings of Different European Beech (Fagus sylvatica L.) Populations under Extreme Drought Conditions Journal Article

Front. Plant Sci., 7 (751), 2016.

Variation in Ecophysiological Traits and Drought Tolerance of Beech (Fagus sylvatica L.) Seedlings from Different Populations Journal Article

Front. Plant Sci., 7 (886), 2016.

2015

Photosynthetic response of beech seedlings of different origin to water deficit Journal Article

Photosynthetica, 53 (2), pp. 187–194, 2015.

2013

The soil hydrogel improved photosynthetic performance of beech seedlings treated under drought Journal Article

Plant Soil and Environment, 59 (10), pp. 446-451, 2013.