Potterf Mária
DE Research Group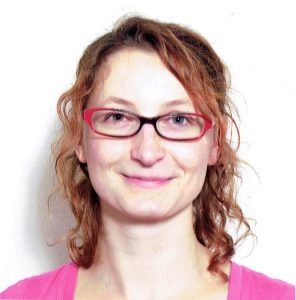 Mgr. Mária Potterf, PhD. (Maiden name: Havašová)
Slovak Academy of Sciences
Institute of Forest Ecology
Disturbance Ecology Research Group
Ľudovíta Štúra 1774/2
960 01 Zvolen
Phone: +421 45 5241 111, kl.302
Email: potterf@ife.sk,
maria.potterf@gmail.com
Education:
Ph.D. Ecology & Biodiversity Protection, Institute of Forest Ecology, Slovak Academy of Sciences, Zvolen, Slovakia (2012-2016)
M.S. Physical Geography and Geoinformatics, Comenius University, Bratislava, Slovakia (2010-2012)
M.S. Operation and Ecosystems Management, Université Henri Poincaré, Nancy, France (2010-2011)
---
Research experience
Research Assistant​: Institute of Forest Ecology, Slovak Academy of Sciences,Zvolen, Slovakia​ (from 2016)​

Investigated the spatio-temporal dynamic and interaction between windthrow, insect damage and clear-cuts using remote sensing

Pro-Term Research Assistant​:​ Spatial Computation, Cognition and Complexity Lab, Department of Geography, University of Oregon (2015-2016​)

Examined the interaction between wind and bark beetle damage using agent-based modeling
Examined how does the impact of social and physical attributes of timber harvesting influence where and when harvesting take plac​e

Research Assistant:​ Faculty of Forestry, Technical University, Zvolen,Slovakia, (2011)

Investigation of the influence of light conditions in canopy gaps on natural regeneration of the old-growth European beech forest
---
Honors and awards
Institute of Forest Ecology, Slovak Academy of Sciences

2017 Supportive Fund of Štefan Schwarz for Creation of Postdoctoral Positions at Slovak Academy of Sciences
2015 National scholarship programme of the Slovak Republic
2014 3rd price Student Seminar

Commenius University

2010 French Government Scholarship for Master 2
---
Skills and interests:
Computer: iOS, Windows, MS Office, R, NetLogo, ArcGIS 10.4, Erdas Imagine 2013, QGIS
Programming languages: Python, R, NetLogo
Languages: Slovak (mother tongue), English (C2), French (C2)
Interests: travelling, hiking, maps, nature, reading
---
2017

Interactions between windthrow, bark beetles and forest management in the Tatra national parks Journal Article

Forest Ecology and Management, 391 , pp. 349-361, 2017, ISSN: 03781127.

Storms, temperature maxima and the Eurasian spruce bark beetle Ips typographus — an infernal trio in Norway spruce forests of the Central European High Tatra Mountains Journal Article

Agricultural and Forest Meteorology, 242 , pp. 85-95, 2017.

Simulating bark beetle population dynamics in response to windthrow events Journal Article

Ecological Complexity, 32 , pp. 21-30, 2017, ISSN: 1476-945X.

2015

Applicability of a vegetation indices-based method to map bark beetle outbreaks in the High Tatra Mountains Journal Article

Annals of Forest Research, 58 (2), pp. 295-310, 2015.