Naďo Ladislav
EBE Research Group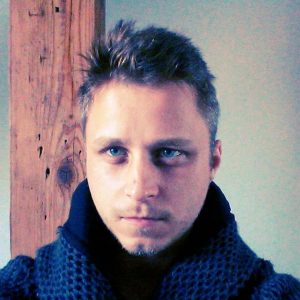 Mgr. Ladislav Naďo, PhD.
Slovak Academy of Sciences
Institute of Forest Ecology
Evolutionary & Behavioural Ecology Research Group
Ľudovíta Štúra 1774/2
960 01 Zvolen
Phone: +421 949 491 889
Email: ladislav.nado@gmail.com
Research Interests: My main research interest lies in behavioural ecology of tree-dwelling bats – particularly in understanding cooperative behaviour and group decision-making of bat groups during movement. My research aims at integrating field ecology with modern statistical tools. My publications has a strong link to conservation – they help to understand processes relevant for the protection of endangered species and suggest directions for management of forest habitats.
---
Education:
PhD. in Ecology and Biodiversity Conservation, Institute of Forest Ecology, SAS (2012-2015)
Mgr. (MSc.) Constantine the Philosopher University in Nitra (2007-2012)
---
Academic employment:
Post-Doc, Institute of Forest Ecology, SAS (since 2015)
---
Projects:
APVV 17/0116 – Algorithm of collective intelligence: Interdisciplinary study of swarming behaviour in bats (invertigator)
VEGA 2/0131/17 – Swarming behaviour as a mechanism of information transfer in bats (principal investigator)
VEGA 2/0102/13 – Social behaviour and relationships in tree-dwelling bats
VEGA 2/0035/13 – Reactions of animal species to changing forest structure
---
Scholarships:
Supportive Fund of Štefan Schwarz for Creation of Postdoctoral Positions at Slovak Academy of Sciences
---
List of my publications:
2019

SkyBat: a swarm robotic model inspired by fission-fusion behaviour of bats Book Chapter Forthcoming

Aspragathos, N; Koustoumpardis, P; Moulianitis, V (Ed.): RAAD 2018, 67 , Chapter Mechanisms and Machine Science, pp. 521-528, Springer, Cham, Switzerland, Advances in Service and Industrial Robotics, Forthcoming, ISBN: 978-3-030-00231-2.

Size‐dependent mating pattern in a nuptial gift‐giving insect Journal Article Forthcoming

Ecology and Evolution, Forthcoming.

2018

Cooperative nest‐defence behaviour and territory quality in a resident and socially monogamous passerine Journal Article

Ethology, 124 (7), pp. 514-526, 2018, ISSN: 1439-0310.

Why sampling ratio matters: Logistic regression and studies of habitat use Journal Article

PloS ONE, 13 (7), pp. e0200742, 2018.

Foraging Habitat, Home-Range Size and Diet of a Mediterranean Bat Species, Savi's Pipistrelle Journal Article

Acta Chiropterologica, 20 (2), pp. 351-360, 2018.

2017

Structural, temporal and genetic properties of social groups in the short-lived migratory bat Nyctalus leisleri Journal Article

Behaviour, 154 (7-8), pp. 785-807, 2017, ISSN: 0005-7959.

2016

Foraging strategy of Kuhl's pipistrelle at the northern edge of the species distribution Journal Article

Acta Chiropterologica, 18 (1), pp. 215-222, 2016, ISSN: 1508-1109.

A noteworthy record of Rhinolophus hipposideros nursery roost under a road bridge Journal Article

Vespertilio, 18 , pp. 163-166, 2016, ISSN: 1213-6123.

2015

Swarming behaviour associated with group cohesion in tree-dwelling bats Journal Article

Behavioural Processes, 120 , pp. 80–86, 2015, ISSN: 0376-6357.

Roost site selection by tree-dwelling bats across biogeographical regions: an updated meta-analysis with meta-regression. Journal Article

Mammal Review, 45 (4), pp. 215–226, 2015, ISSN: 1365-2907.

2014

Structure of tree vegetation may reduce costs of territory defence in Eurasian Nuthatch Sitta europaea Journal Article

Bird Study, 61 , pp. 413-420, 2014.

2013

Dawn swarming in tree-dwelling bats – an unexplored behaviour Journal Article

Acta Chiropterologica, 15 (2), pp. 387-392, 2013, ISSN: 1508-1109 .

Response to Orthoptera to clear-cuts in beech forests Journal Article

European Journal of Entomology, 110 (2), pp. 319-326, 2013.

Orthoptera assemblages of beech stand plots during early succession stages after clearcutting Journal Article

Journal of Forest Science, 59 (3), pp. 93-100, 2013.

2011

Tree roosts and competitors of Nyctalus noctula in the Sihoť town park, Nitra, Slovakia Journal Article

Vespertilio, 15 , pp. 71-77, 2011, ISSN: 1213-6123.