Kaňuch Peter
EBE Research Group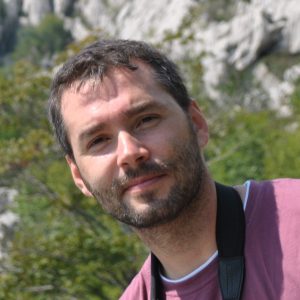 Mgr. Peter Kaňuch PhD.
Slovak Academy of Sciences
Institute of Forest Ecology
Head of Evolutionary & Behavioural Ecology Research Group
Ľudovíta Štúra 1774/2
960 01 Zvolen
Phone:  +421 45 5241 111, kl. 206
Email: kanuch@netopiere.sk
Research interests:
Evolutionary and behavioural ecology
Population genetics and phylogeography
Bats and bush-crickets
---
---
List of my publications:
2017

Haplotype diversity in common pipistrelle's mass hibernacula from central Europe Journal Article

Biologia (Bratislava), 72 (5), pp. 548-553, 2017, ISSN: 1336-9563.

Isolated populations of the bush-cricket Pholidoptera frivaldszkyi (Orthoptera, Tettigoniidae) in Russia suggest a disjunct area of the species distribution Journal Article

ZooKeys, 665 , pp. 85-92, 2017.

Distinctive male–female acoustic duetting supports the specific status of Isophya fatrensis, a West-Carpathian endemic bush-cricket (Insecta: Orthoptera: Tettigoniidae: Phaneropterinae) Journal Article

Bioacoustics , pp. 1-14, 2017.

Stay or go? Strong winter feeding site fidelity in small woodland passerines revealed by a homing experiment. Journal Article

Journal of Ornithology, 158 (1), pp. 53-61, 2017, ISSN: 0021-8375.

Structural, temporal and genetic properties of social groups in the short-lived migratory bat Nyctalus leisleri Journal Article

Behaviour, 2017.

Different responses of attic-dwelling bat species to landscape naturalness Journal Article

Mammalian Biology - Zeitschrift für Säugetierkunde, 82 , pp. 48-56, 2017, ISSN: 1616-5047.

2016

A noteworthy record of Rhinolophus hipposideros nursery roost under a road bridge Journal Article

Vespertilio, 18 , pp. 163-166, 2016, ISSN: 1213-6123.

Response of the dominant rodent species to close-to-nature logging practices in a temperate mixed forest Journal Article

Annals of Forest Research, 59 (2), pp. 259-268, 2016.

2015

Swarming behaviour associated with group cohesion in tree-dwelling bats Journal Article

Behavioural Processes, 120 , pp. 80–86, 2015, ISSN: 0376-6357.

Roost site selection by tree-dwelling bats across biogeographical regions: an updated meta-analysis with meta-regression. Journal Article

Mammal Review, 45 (4), pp. 215–226, 2015, ISSN: 1365-2907.

Environmentally driven variability in size-selective females' mating frequency of bush-cricket Pholidoptera griseoaptera Journal Article

Evolutionary Ecology, 29 (5), pp. 787–797, 2015.

New discoveries on the ecology and echolocation of the heart-nosed bat Cardioderma cor with a contribution to the phylogeny of Megadermatidae Journal Article

African Zoology, 50 , pp. 53-57, 2015.

Habitat-conditioned feeding behaviour in Barbitistes constrictus (Orthoptera: Tettigoniidae). Journal Article

Open Life Sciences, 10 (1), pp. 1-6, 2015.

2014

Strong matrilineal structure in common pipistrelle bats (Pipistrellus pipistrellus) is associated with variability in echolocation calls Journal Article

Biological Journal of the Linnean Society, 113 (4), pp. 1115–1125, 2014.

Structure of tree vegetation may reduce costs of territory defence in Eurasian Nuthatch Sitta europaea Journal Article

Bird Study, 61 , pp. 413-420, 2014.

Geographic variation in relict populations: genetics and phenotype of bush-cricket Pholidoptera frivaldskyi (Orthoptera) in Carpathians Journal Article

Journal of Insect Conservation, 18 (2), pp. 257–266, 2014.

Genetic diversity of a successful colonizer: isolated populations of Metrioptera roeselii regain variation at an unusually rapid rate Journal Article

Ecology and Evolution, 4 (7), pp. 1117–1126, 2014.

Female bush-crickets, Pholidoptera griseoaptera, that have received smaller ejaculates show a higher mating rate in the field Journal Article

Journal of Insect Behavior, 27 (3), pp. 411–418, 2014.

2013

Dawn swarming in tree-dwelling bats – an unexplored behaviour Journal Article

Acta Chiropterologica, 15 (2), pp. 387-392, 2013, ISSN: 1508-1109 .

A review of distribution and ecology of three Orthoptera species of European importance with contributions from their recent north-western range Journal Article

North-Western Journal of Zoology, 9 (1), pp. 185-190, 2013.

On variation of polyandry in a bush-cricket, Metrioptera roeselii, in northern Europe Journal Article

Journal of Insect Science, 13 , pp. 1-10, 2013.

Colonization history of Metrioptera roeselii in northern Europe indicates human-mediated dispersal Journal Article

Journal of Biogeography, 40 (5), pp. 977–987, 2013.

2012

Landscape configuration determines gene flow and phenotype in a flightless forest-edge ground-dwelling bush-cricket, Pholidoptera griseoaptera Journal Article

Evolutionary Ecology, 26 (6), pp. 1331–1343, 2012.

2011

Tree roosts and competitors of Nyctalus noctula in the Sihoť town park, Nitra, Slovakia Journal Article

Vespertilio, 15 , pp. 71-77, 2011, ISSN: 1213-6123.